Francesco Frizzera
Unfortunately, this content is not available in English at the moment. Showing original instead.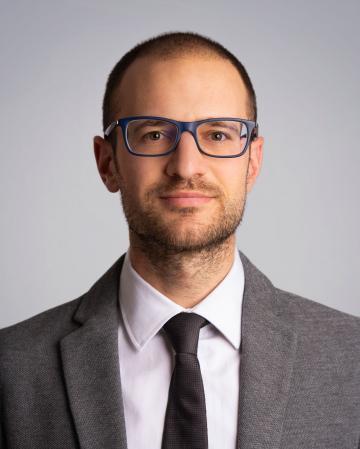 Biography
Francesco Frizzera (n. 1985) è dottore di ricerca presso l'Università di Trento. Da novembre 2016 è ricercatore post-doc presso la Katholische Universität Eichstätt-Ingolstadt con un progetto di ricerca sulle politiche alimentari e agricole in Germania dalla Grande Guerra al 1933. Dal 2019 è Direttore del Museo Storico Italiano della Guerra di Rovereto.
https://ku-eichstaett.academia.edu/FrancescoFrizzera
Ambiti di ricerca
Spostamenti di popolazione in Europa (1914–1923)
Alimentazione e agricoltura (1914–1933)
Trasformazioni tecnologiche nell'area alpina (XIX–XX sec.)
Nazionalismo e istruzione in area alpina (1848–1945)
Bibliography
F. Frizzera, Cittadini dimezzati. I profughi trentini in Austria-Ungheria e in Italia (1914–1919) (Annali dell'Istituto storico italo-germanico in Trento), Bologna, Il Mulino, 2018.
G. Corni/F. Frizzera, Die Diskussion um die "Zwangswirtschaft" während des Ersten Weltkrieges und in der Nachkriegszeit. In: Zeitschrift für Agrargeschichte und Agrarsoziologie (2018), 1, pp. 17–42.
F. Frizzera, Population Displacement in the Hapsburg Empire during the First World War. In: J. Devlin, M. Falina, J.P. Newman (eds.), Memories and Identities in Central and Eastern Europe, London - New York, I.B. Tauris, 2018, pp. 60–72.
F. Frizzera, Dai pieni diritti all'esclusione dalla cittadinanza. I profughi di guerra nell'Impero asburgico e negli Stati successori. In: S. Lorenzini, S.A. Bellezza (a cura di), Sudditi o cittadini? L'evoluzione delle appartenenze imperiali nella Prima guerra mondiale, Roma, Viella, 2018, pp. 45–66.
M. Mondini/F. Frizzera, Beyond the borders. Displaced persons in the Italian linguistic space during the First World War: a complex 'national' problem. In P. Gatrell, L. Zhvanko (edd), Europe on the Move. Refugees in the Era of the Great War. 1914–1918, Manchester, Manchester University Press, 2016, pp. 177–196.